BIG NEWS! It's once again that most favorite time of the year–the holiday season! And we've got an INSANE holiday price drop for America's #1 rave coffee table photo book! You can now get a copy of "DANCEFLOOR THUNDERSTORM" for only $19.99, plus shipping! That's right, the ultimate rave holiday gift, for just twenty bucks!!
????????????????????????
This offer is ONLY good here on the "DANCEFLOOR THUNDERSTORM" web site!
We strongly urge people to order ASAP, as the USPS shipping service we use is slower than Priority Mail or FedEx. Just go to the "Order Book" section in the site's top menu. We recommend that your latest possible shipping date be December 18th, so as to give enough time for the package to arrive by Christmas. So don't wait!!!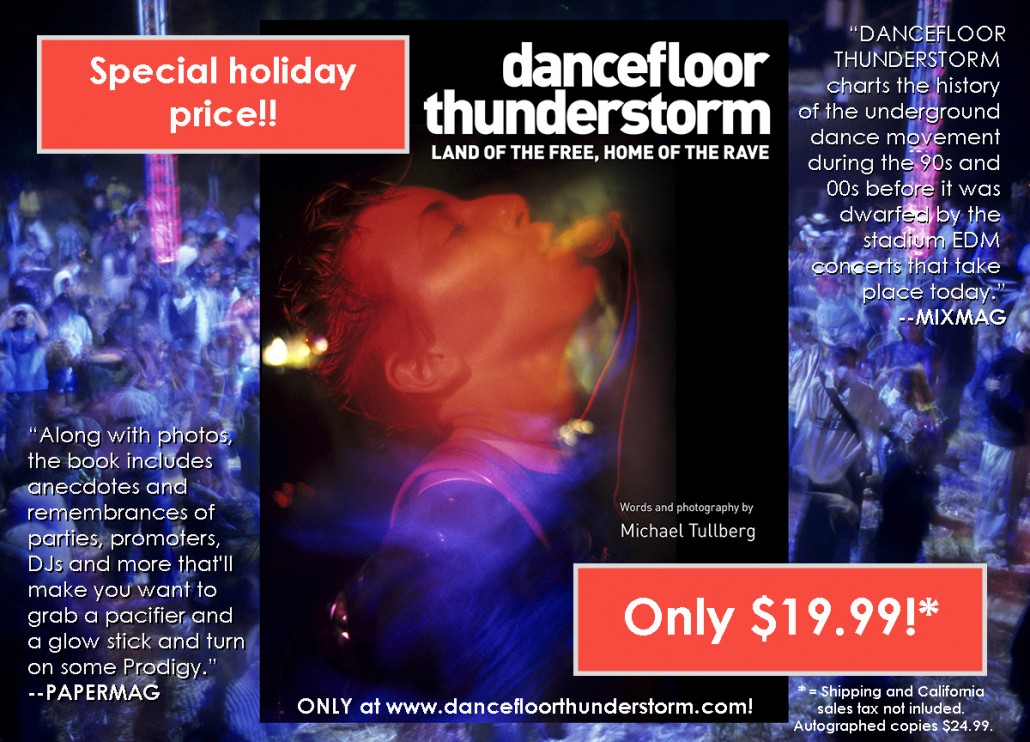 Some words of praise for the book!
THUMP (VICE): "Tullberg's collection captures the spirit of the American '90s rave scene in a way that transcends location. Perhaps it's because his original style of using long-exposures to capture the kinetic energy of endless hours on darkened dance floors illuminated the scene before the introduction of the epic crane shot."
LA WEEKLY: "Tullberg does a good job of capturing the scene — the superstar DJs, the club kids, the chilled-out crews, the pro-rave demonstrations — but more importantly, he pulls the viewer into the parties. Light refracts, piercing images like those moments when your eyes have been open for far too long. Scenes morph into vortices that blur at the edges, like your memories will the next day. In Tullberg's photos, faces melt and hands multiply. They are photos that make you feel like you are in this moment that you hope will never end."
MIXMAG.NET: "A photobook from electronic music photojournalist Michael Tullberg showcases images of the glory days of the American rave scene, before EDM was even a twinkle in Steve Aoki's eye. 'Dancefloor Thunderstorm: Land Of The Free, Home Of The Rave' charts the history of the underground dance movement during the 90s and 00s before it was dwarfed by the stadium EDM concerts that take place today."
https://dancefloorthunderstorm.com/wp-content/uploads/2018/11/DFTS-2018-Holiday-Pricing-1-FLAT.jpg
864
1200
michael
https://dancefloorthunderstorm.com/wp-content/uploads/2015/05/dft-logo.png
michael
2018-11-28 00:41:09
2018-11-28 00:41:09
HUGE holiday savings on "DANCEFLOOR THUNDERSTORM"!