What's up, folks???
Yes, it's Thursday, and you know what that means! It's time once again to take advantage of Throwback Thursday with another edition of "DJs – THEN & NOW"! And do we have an industry veteran for you today! Not only is this man an internationally celebrated dance music pioneer,  well-known vegan and restaurateur, but he's also the author of a number of books, including his autobiography Porcelain. And if just half of what he writes about in the book are true (particularly the chemically-inspired parts), it's something of a wonder that he's made it to "THEN & NOW", and not become a casualty along the way–unable to make it past "THEN". Fortunately he's very much in the here and NOW…the man who told the world to press "Play"! Yes, it's MOBY!!!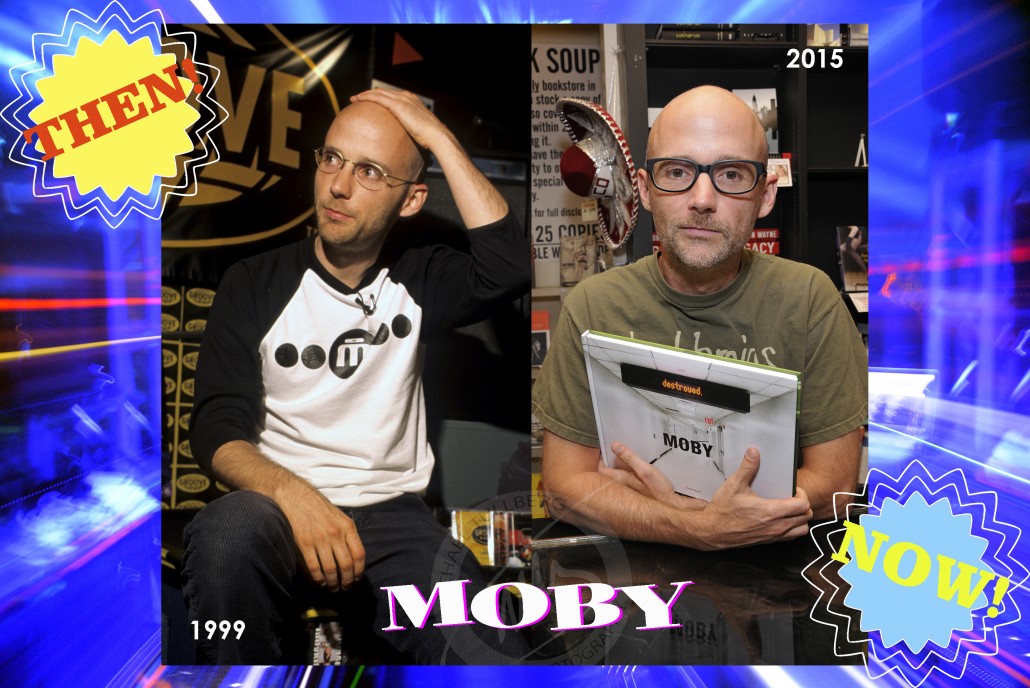 (left: "Groove TV" taping in L.A., 1999. Right: book signing in West Hollywood, 2015)
Well, this man certainly does know how to age into his role of music intelligentsia, doesn't he? Coming soon to an NPR station near you…no doubt Jason Bentley will open!
Moby appears in the pages of "DANCEFLOOR THUNDERSTORM", by the way. You can order it right here on this web site. We certainly hope that you do.
Coming next week: IT'S A MYSTERY! STAY TUNED!!!
Save
Save
https://dancefloorthunderstorm.com/wp-content/uploads/2016/09/Moby_squared.jpg
1440
1396
michael
https://dancefloorthunderstorm.com/wp-content/uploads/2015/05/dft-logo.png
michael
2016-09-29 19:05:38
2016-09-29 19:06:25
DJs – THEN & NOW, Week 4: MOBY!!!