Oh yeah, this is good news. One of the great old-school rave media outlets, XLR8R.com, has just put out a new interview article with Michael. It contains not only the usual number of great classic rave photographs, but also a bunch of insightful comments from Michael about his photographs, rave history, and Rave vs. EDM. Here's the link to the story:
https://www.xlr8r.com/news/2016/05/interview-dancefloor-thunderstorms-michael-tullberg/
Here's a clip from the opening paragraph: "Southern California was on the ground floor when rave culture and dance music exploded in the 90's and, thankfully, the archival tales and photographic relics of that time are now seeing the light of day. In a new book titled Dancefloor Thunderstorm—released in October of last year—electronic music photojournalist Michael Tullberg gives the reader a voyeuristic look at some of the biggest and most outrageous parties and underground raves from the 1990s and early 2000s. Reporting from the center of American rave culture during that time, Tullberg amassed an enormous library of photos, news articles, interviews, and memorabilia—the best of which make up the contents of his book."
Sounds pretty accurate to us. Oh and by the way, it's not only ONE WEEK until Michael speaks on the discussion panel at West Coast Weekender in San Diego!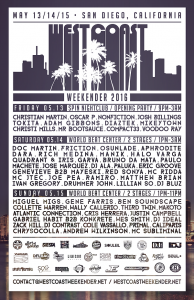 Michael will be taking part in the "Music For Positive Social Change" panel discussion on Friday, May 13 at 4:00 PM! We very highly recommend that you attend this new electronic music conference, since there are not only several very thought provoking panels taking place, but also numerous great parties in the evenings, as can be seen in the flyer!
And of course, only two days later it's the big book signing at Dr. Freecloud's Record Shoppe! It starts at 1:00 and "officially" ends at 3:00…but of course, if we find any reason to keep it going longer, we see no reason not to take advantage of that! Be sure to make your way down for a day of fun stories and more than a little of old-school rave history! SEE YOU THERE!
https://dancefloorthunderstorm.com/wp-content/uploads/2015/05/dft-logo.png
0
0
michael
https://dancefloorthunderstorm.com/wp-content/uploads/2015/05/dft-logo.png
michael
2016-05-07 08:53:45
2016-05-07 08:53:45
More EDM Press Takes Notice! XLR8R Puts Out New Interview Article!