Hey folks,
It's been a busy week for us here at 5150–then again, every week is a busy one in our business!–and we have some good things to show for it. First off, "DANCEFLOOR THUNDERSTORM" is beginning to collect some great reviews on its Amazon.com page! Take a look at these: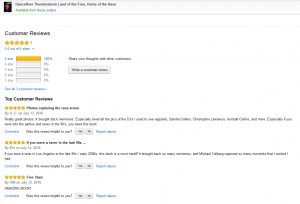 Very cool! Nice to see that people are enjoying the book enough to take the time to say so publicly on Amazon! And here's the second good thing to happen this week: Michael's latest interview piece! This time it's with More Moi Music, who interviewed Michael while he was at EDMbiz in Las Vegas last June. It's a really good article overall, and while Michael has some pointed things to say in it, we think that the More Moi people really topped off the piece just right with the following ending paragraph:
"While we weren't adults raving in the 90s, we and other fellow Millennials, tend to feel nostalgic for times we've never experienced ourselves. We long for the simpler times detailed in Dancefloor Thunderstorm, which focused solely on the music, the atmosphere, and the raw energy it could provide. We hope that the resurfacing of these untold stories permeates into today's DJ celebrity crazed, financially oriented and production heavy dance music culture."
Couldn't have said it any better ourselves. Here's the link to the article:
http://www.moremoimoremusic.com/spotlight/michael-tullberg-dancefloor-thunderstorm
Getting ready for a busy weekend. Hope yours is productive!
https://dancefloorthunderstorm.com/wp-content/uploads/2015/05/dft-logo.png
0
0
michael
https://dancefloorthunderstorm.com/wp-content/uploads/2015/05/dft-logo.png
michael
2016-07-15 23:12:01
2016-07-15 23:12:01
News: Amazon feedback & new interview article