5150 Publishing, Inc.
P.O. Box 86802
Los Angeles, CA 90086
(213) 321-5401
CLASSIC RAVE PHOTO BOOK "DANCEFLOOR THUNDERSTORM: Land Of The Free, Home Of The Rave" released on Amazon.com!
5150 Publishing announces groundbreaking book's availability on world's biggest bookstore!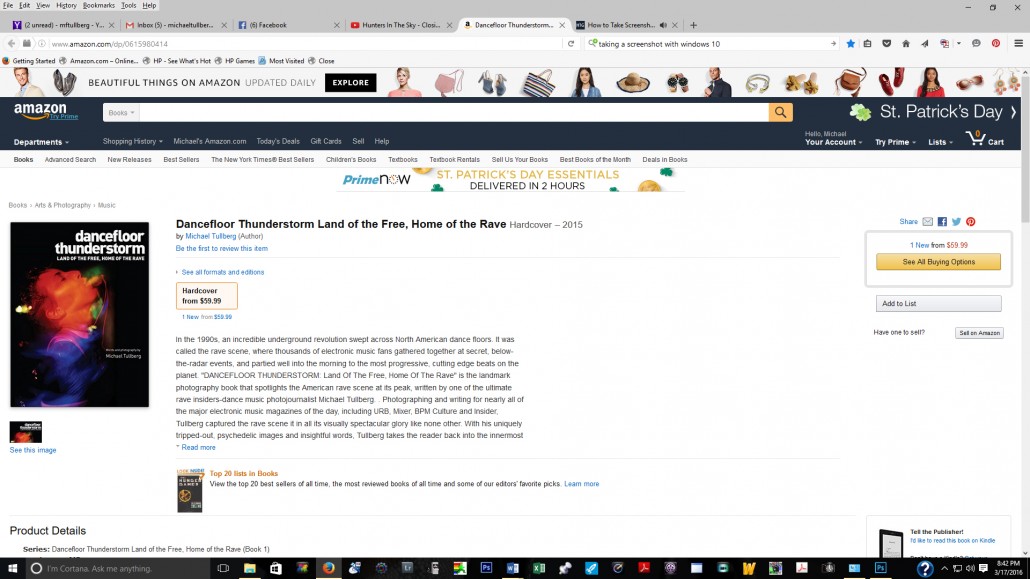 ***FOR IMMEDIATE RELEASE***
LOS ANGELES, CA:  5150 Publishing today announced that acclaimed photojournalist Michael Tullberg's rave music photo book "DANCEFLOOR THUNDERSTORM: Land Of The Free, Home Of The Rave" is now available for sale on the global sales outlet Amazon.com. With this development, now electronic music fans across America can easily locate and order the first groundbreaking coffee table book about the rise of the underground electronic music scene in the 1990s. It also marks the first book from Tullberg's own publishing house, 5150 Publishing, to make it onto the site of the country's biggest bookstore. The book can be found at the following online link:
http://www.amazon.com/dp/0615980414
"It's a great thing to finally be able to put "DANCEFLOOR THUNDERSTORM" up on Amazon," said Tullberg. "With such a convenient place to go to, now the customer can get their copy of the book faster than ever before. And, having "DANCEFLOOR THUNDERSTORM" alongside so many other high quality works on Amazon's site means that people can combine purchases with other books about electronic music. It's a great opportunity to indulge one's self while diving into the history of this music and culture."
"DANCEFLOOR THUNDERSTORM: Land Of The Free, Home Of The Rave" is a 308-page hardcover volume that features the electronic music pioneers of the rave era, including Paul Oakenfold, Fatboy Slim, Carl Cox, Moby, Frankie Bones, the Chemical Brothers, Massive Attack and more. Released in October of 2015, the book was first available for online ordering at its web site, www.dancefloorthunderstorm.com. Since then, it has picked up numerous praises in the media, including the following:
………………………………………
PAPERMAG.COM: "A new book, DANCEFLOOR THUNDERSTORM: Land Of the Free, Home Of The Rave, showcases the work of photojournalist Michael Tullberg who documented the rave scene in Los Angeles and Southern California throughout the '90s and '00s. His pictures capture young people in ecstasy (sometimes, we imagine, literally) dancing to the beats of top DJs like Paul Oakenfold and Richie Hawtin along with local producers on the scene. Along with photos, the book includes anecdotes and remembrances of parties, promoters, DJs and more that'll make you want to grab a pacifier and a glow stick and turn on some Prodigy."
MIXMAG.NET: "A photobook from electronic music photojournalist Michael Tullberg showcases images of the glory days of the American rave scene, before EDM was even a twinkle in Steve Aoki's eye. 'DANCEFLOOR THUNDERSTORM: Land Of The Free, Home Of The Rave' charts the history of the underground dance movement during the 90s and 00s before it was dwarfed by the stadium EDM concerts that take place today."
BUZZFEED.COM: "Photographer Michael Tullberg was a witness to the sights and sounds, and his new book Dancefloor Thunderstorm, reveals his first-hand account of what '90s rave culture was really about."
LA WEEKLY: "Light refracts, piercing images like those moments when your eyes have been open for far too long. Scenes morph into vortices that blur at the edges, like your memories will the next day. In Tullberg's photos, faces melt and hands multiply. They are photos that make you feel like you are in this moment that you hope will never end."
DJBROADCAST.NET: "No one comes more esteemed within dance music photography than Michael Tullberg. As a self-described 'rave photojournalist' Tullberg was there to capture the very building-blocks of the US electronic music scene. His early work documented the likes of Digweed, Sasha and Cox as they dominated the underground massive."
……………………………………
Michael Tullberg has also picked up endorsements from electronic music virtuosos like the following:
DJ CHRISTOPHER LAWRENCE: Prior to the rise of camera phones and social media, it was down to photographers like Michael Tullberg to document the rave scene with photos appearing in URB Magazine, BPM Magazine, XLR8R and many others. He was at every warehouse party, festival and afterhours in Los Angeles from the 1990's shooting the DJs and crowds. Many of my best known live photos during this era were taken by Michael. He was known for his creative photography and capturing the spirit of rave culture. His book is incredible and worth buying as it is a historical time capsule of an amazing period which gave rise to the electronic music scene as we know it today."
DJ FRANKIE BONES: "Our scene was built on capturing a moment. Michael has done this moment after moment for many years and [DANCEFLOOR THUNDERSTORM] shouldn't be missed. That book goes beyond anything anyone could ever want in a history, blindsided by kids having to pay six installments of $89 to go to one festival."
KEN JORDAN (The Crystal Method): "I remember the first time we encountered Michael Tullberg. I remember there was this crazy photographer guy on stage with us—around the stage, around the gear, climbing over people and everything! And we thought, who is this crazy person? But then of course we saw his work and his photos, and he's been a welcome addition to our stage, any time and every time he wants."
………………………………………
Tullberg's recent iBook follow-up, "DANCEFLOOR THUNDERSTORM: The Out-Takes", is available in the iBook store for only $6.99, and can be found at the following preview link:
https://itunes.apple.com/us/book/dancefloor-thunderstorm-out/id1090607538?mt=11
Any press inquiries should be directed to the following:
Michael Tullberg
President & CEO, 5150 Publishing, Inc.
P.O. Box 86802
Los Angeles, CA 90086
(213) 321-5401
www.dancefloorthunderstorm.com
https://dancefloorthunderstorm.com/wp-content/uploads/2015/05/dft-logo.png
0
0
michael
https://dancefloorthunderstorm.com/wp-content/uploads/2015/05/dft-logo.png
michael
2016-03-18 03:59:47
2016-03-18 03:59:47
DANCEFLOOR THUNDERSTORM NOW ON AMAZON!